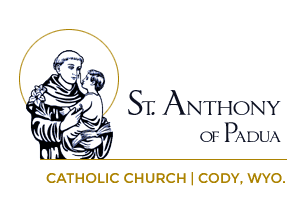 Since the mid 1920's, St. Anthony's Parish in Cody has cared for the spiritual needs of the touring public in Yellowstone National Park. This summer (2015) the Roman Catholic Mass will be celebrated on weekends at various locations in the Park from Saturday, June 20, through Sunday, September 13. (When a priest is not available during this period we will celebrate the Liturgy of the Word/Communion Service at the same times and locations.) Please note there are no weekday services in the Park.
SUMMER MASS / COMMUNION SERVICE TIMES

June 20 - September 13, 2015

Canyon Outdoor Amphitheater
Saturdays 4:30 p.m.

Old Faithful Lodge Employee Recreation Hall
Sundays 9:00 a.m.

Lake Lodge Employee Recreation Hall
Sundays 11:30 a.m.

Click map to enlarge.
Related links: Other Catholic Churches in the Yellowstone Area
Related link:
Old Faithful. Fr. Rick Molloy, S.J., who offered Mass in the Park for the traveling public in 2010, is interviewed for the Philadelphia Archdiocesan Newspaper.